<!- mfunc feat_school ->
Featured Programs:
Sponsored School(s)
<!- /mfunc feat_school ->
Certified nurse-midwives (CNMs) are the compassionate providers of holistic patient-centered care to women from all walks of life, and at every stage of life. As advanced practice registered nurses who double as experts in the gentle art of midwifery, nurse-midwives support women throughout their lifespan by providing well-woman, gynecologic, pregnancy, and postpartum care, as well as care of the newborn. They're not only recognized as some of the most forward-thinking healthcare providers in the United States today, but they're also among the best paid.
Here's why: CNMs have long been associated with excellent patient outcomes, high levels of patient satisfaction, lower overall healthcare costs, and fewer invasive and costly medical interventions. As skilled maternity and primary care providers, CNMs are the answer to our nation's alarming maternity healthcare provider shortage which, according to the American College of Nurse-Midwives, will reach 22,000 by 2050.
<!- mfunc search_btn -> <!- /mfunc search_btn ->
Preventable maternal deaths continue to rise, and more women die from pregnancy-related complications in the U.S. than in any other developed nation. And there's absolutely no excuse for it. Though there are many reasons why this growing maternal health crisis exists, the World Health Organization (WHO) reports that a lack of qualified maternal and women's clinicians remains the leading cause.
In response to this crisis and in recognition of the value of the CNM in maternal and women's healthcare, the WHO named 2020 "The Year of the Nurse and the Midwife." Nurse-midwifery reduces primary and maternity care provider shortages, improves maternal health outcomes, promotes optimal pregnancy and postpartum care, and serves as a valuable option for healthcare services throughout the lifespan.
---
Midwife Salary Information By State
What Certified Nurse-Midwives are Earning in Different Practice Settings Around the Country
State-by-State Guide to Certified Nurse-Midwife Salaries Nationwide
---
Find Midwife Salary Info For Your State
What Certified Nurse-Midwives are Earning in Different Practice Settings Around the Country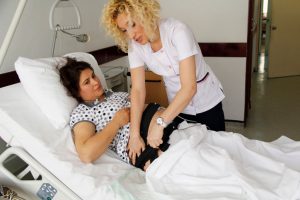 According to Medscape APRN Compensation Report 2019, certified nurse-midwives earned an average, annual salary of $107,000 in 2018. Those earning an hourly wage reported earning $58/hour, while those working part-time earned $54/hour.
This is in line with the Bureau of Labor Statistics (BLS), which reported an annual, average salary of $105,030 for certified nurse-midwives, as of May 2019. The top 10% of earners in this field—likely those with considerable experience and those working in busy metro areas—earn upwards of $158,990, according to the BLS.
Glassdoor, a leading job and recruiting site, also reports a similar average salary of $105,951 for certified nurse-midwives as of August 2020, which is based on more than 150 anonymous salary reports from current CNMs.
The Kinds of Practice Settings Where Certified Nurse-Midwives Can Be Found
According to the 2019 Medscape report, the majority of certified nurse-midwives (77%) work full-time, while 21% work part-time, and just 3% work PRN/per diem.
About one quarter of all CNMs (28%) work in hospitals, followed by hospital-based outpatient clinics (21%), medical offices/urgent care centers (13%), and academic settings (8%) as faculty members and/or researchers. The largest percentage (31%) of all CNMs in this report worked in "other" settings, which likely includes private birthing centers and in-home birth services.
<!- mfunc search_btn -> <!- /mfunc search_btn ->
Because all CNMs come with the same set of credentials (graduate-level education, national CNM certification, and advanced practice state licensure), you won't find any salary differences based on qualifications; instead, expect experience and location (both in terms of setting and geographic location) to be the major players when it comes to salary differences between CNMs.
According to the BLS, CNMs working in community health clinics earned the highest average salary, at $153,280, followed by:
Outpatient care centers: $123,620
Medical/surgical hospitals: $110,180
Physicians' offices: $106,760
A June 2020 Nurse Journal article revealed that CNMs oversee about 10% of all vaginal births in the U.S. each year, of which the majority (97%) take place in hospitals, while 2% take place in birthing centers, and 1% take place in the home.
Medscape reports that just 6% of all CNMs own their own practice. This is likely due to the fact that just half of all states allow CNMs to work independently.
Filling a Need for Prenatal, Perinatal, Postnatal and Primary Care Throughout the Country
The largest number of CNMs (84%) reported working in urban settings in 2018. These professionals were also the highest paid, earning an average salary of $110,000, followed by those working in suburban settings, who earned an average of $105,000.
But it's their presence in parts of the country where people lack access to OB/GYN care that is simply invaluable. Thanks to provisions in the Affordable Care Act that require Medicaid to cover midwifery care, CNMs can and do provide services where physician-led practices are either rare or non-existent. A number of state-level initiatives exist for CNMs working in health professional shortage areas (HPSA), including student loan forgiveness and repayment programs.
The BLS reports the top-paying states for CNMs, according to annual, mean salary, include:
California: $154,500
Minnesota: $121,980
New York: $120,380
Mississippi: $119,640
Maryland: $118,240
The top-paying metro areas include:
Los Angeles, CA (includes Long Beach and Anaheim): $163,020
San Francisco, CA (includes Oakland and Hayward): $156,450
San Diego, CA (includes Carlsbad): $130,140
Toledo, OH: $129,360
Minneapolis, MN-WI (includes St. Paul and Bloomington): $122,080
Atlanta, GA (incldues Sandy Springs and Roswell): $118,780
Salt Lake City, UT: $118,720
Baltimore, MD (includes Columbia and Towson): $118,570
State-by-State Guide to Certified Nurse-Midwife Salaries Nationwide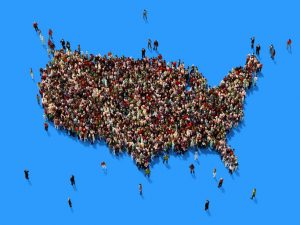 The BLS provides an overview of average salaries for nurse-midwives, at both the 50th and 90th percentiles, by state:
Alaska: $78,450 – $137,360 (approximately 50 CNMs)
Arizona: $112,450 – $185,160 (approximately 110 CNMs)
California: $159,630 – $204,130 (approximately 690 CNMs)
Colorado: $104,900 – $138,120 (approximately 170 CNMs)
Connecticut: $114,230 – $137,600 (approximately 80 CNMs)
Delaware: $95,410 – $123,240 (approximately 60 CNMs)
District of Columbia: $87,630 – $140,060 (approximately 40 CNMs)
Florida: $90,840 – $118,780 (approximately 330 CNMs)
Georgia: $94,410 – $132,020 (approximately 520 CNMs)
Illinois: $102,680 – $134,030 (approximately 290 CNMs)
Indiana: $111,920 – $136,420 (approximately 80 CNMs)
Iowa: $97,470 – $161,590 (approximately 40 CNMs)
Kentucky: $102,040 – $141,720 (approximately 70 CNMs)
Maine: $114,450 – $133,820 (approximately 60 CNMs)
Maryland: $108,630 – $145,360 (approximately 170 CNMs)
Massachusetts: $113,580 – $174,060 (approximately 310 CNMs)
Michigan: $99,080 – $134,820 (approximately 280 CNMs)
Minnesota: $116,920 – $157,270 (approximately 220 CNMs)
Mississippi: $115,530 – $182,550 (approximately 40 CNMs)
Missouri: $112,900 – $153,730 (approximately 50 CNMs)
New Hampshire: $106,190 – $143,080 (approximately 70 CNMs)
New Jersey: $112,460 – $154,550 (approximately 170 CNMs)
New Mexico: $104,230 – $131,630 (approximately 90 CNMs)
New York: $116,040 – $161,820 (approximately 480 CNMs)
North Carolina: $100,410 – $128,080 (approximately 180 CNMs)
Ohio: $97,720 – $135,320 (approximately 330 CNMs)
Oregon: $116,640 – $159,030 (approximately 180 CNMs)
Pennsylvania: $98,890 – $127,920 (approximately 400 CNMs)
Rhode Island: $109,690 – $149,430 (approximately 50 CNMs)
South Carolina: $94,060 – $130,880 (approximately 30 CNMs)
Tennessee: $92,070 – $116,370 (approximately 40 CNMs)
Texas: $84,080 – $128,410 (approximately 540 CNMs)
Utah: $99,990 – $151,720 (approximately 60 CNMs)
Vermont: $94,520 – $129,180 (approximately 50 CNMs)
Virginia: $99,050 – $125,070 (approximately 180 CNMs)
Washington: $109,510 – $130,640 (approximately 110 CNMs)
Wisconsin: $112,240 – $163,520 (approximately 100 CNMs)
Salary and employment data compiled by the United States Department of Labor's Bureau of Labor Statistics in May of 2019. Figures represent accumulated data for all employment sectors in which nurse-midwives work. BLS salary data represents average and median earnings for the occupations listed and includes workers at all levels of education and experience. This data does not represent starting salaries. 
<!- mfunc feat_school ->
Featured Programs:
Sponsored School(s)
<!- /mfunc feat_school ->